The GLC Story
Girls Leadership Collaborative (GLC) was developed so young leaders could have the opportunity to uncover and explore their passions, examine how and why they interact with others in group settings, understand the phenomenon of social hierarchies, and examine the role of leadership in groups. GLC provides girls with the necessary practice engaging in developmentally appropriate risk taking as they develop as leaders.  Developing service learning projects as an outcome provides a meaningful context in which to examine the roles of group formation theory, social hierarchies and leadership.
Central to GLC is the question: "How can what it is I know, and am able to do, benefit a community, a cause, or the world?"  "How can I use what I have been learning in school today, and not just when I enter into adulthood?" Effective collaboration and leadership is dependent upon understanding one's own behaviors and motivations in group settings. It is particularly important to facilitate this using real-world context and explicit instruction with young people. By designing opportunities to apply talents, passions and skills to global or community problems, requiring leadership and collaboration, young people can begin to feel agency in their learning and in their lives.
We spend a great deal of time as young people learning how to write effectively, think creatively, solve hypothetical mathematical problems, analyze text, and successfully recall scientific phenomenon, and the like.  This is all in an effort to enter "real-life" with a fully polished toolbox of sorts, with which to draw the appropriate information or skill, to apply toward a future challenge. What if multiple challenges already exist? What if young people were to be given the opportunity to solve, or make contributions to today's problems? We see examples of young people making significant contributions to a myriad industries, social enterprises, activist causes, and creative endeavors with increasing frequency. What is critical for young people to contribute effectively to their communities is an ability to understand group dynamics, to enhance collaboration, and to understand the altruistic nature of leadership, and to have the ability to work toward a bigger idea; an unselfish concern for the greater, global community.
The result was the creation of GLC, where research-based social and cognitive development, group formation theory, social hierarchies, and project-based, service learning can help to maximize one's productivity and success in real-world settings.
Facilitators
Meg Stowe Ed.M.  Co-Founder, Executive Director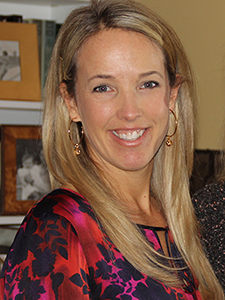 Meg is a co-founder & executive director of Girls Leadership Collaborative, a leadership development organization through the lens of service learning. GLC has worked with area students in both independent and public schools throughout Rhode Island and beyond. Meg has served youth for 20+ years in a variety of capacities including teacher, youth and service learning leader, dorm parent, advisor, athletic coach, counselor, and is a parent of 2 teenagers. A fierce dedication to the adolescent age group led her to complete a M.Ed. in adolescent education, leadership and integrated curriculum design at Lesley University, with plans to persue a PhD. She is passionate about leadership development through the lens of service learning and helping youth to uncover passions and motivation using real-world experiences. Using the inquiry approach through integrated project design, Meg develops experiences for students and teachers which answer her favorite question, How can what it is I know, and am able to do, benefit my community, an individual, a cause, or the world?  Meg is a graduate of the '14 Gardner Carney Leadership Institute's Leadership Lab: Teaching Teachers About Teaching Leadership, and was a visiting scholar to the 2016 gcLi Leadership Lab. This experience prepares leaders to facilitate teaching and learning in developmental psychology, elicit self-awareness in groups, teach and utilize adaptive leadership among colleagues and students. Meg has added Director of Innovation at Rocky Hill School, an independent school in Rhode Island, to her experiences which continue to inspire and engage her with students and teachers in the K-12 setting. 
Ianthe Hershberger
Ianthe is the Summer Programs Director at Girls Leadership Collaborative. She has been working with the organization from the beginning. First as a facilitator during the school year, then lead facilitator during camp. This school year, Ianthe has made the transition to managing the planning, rollout, and supervision of all camp programs and staff.
Ianthe has had a passion for teaching and serving her community for as long as she can remember. She comes with experience in areas including consulting, student leadership, supervising, training all ages, teaching, advising, and facilitating service learning both locally and internationally. She earned her degree in Economics with Minors in Human Development and Government from Connecticut College. While working at an educational consulting firm in Boston, she also earned her MBA from Clark University.
Now, Ianthe is the Middle School Math Coordinator at the Wheeler School where she also balances her other roles of math teacher, 8th grade advisor, and student council advisor. She is excited about the opportunity to engage girls in service learning and help them to understand the power of leadership and the need to develop their voice.
Claire Wiley
Claire is the Director of Data and Market Strategies at GLC. Prior to this appointment, Claire has been teaching and coaching for the past six years. She earned her Bachelors in Art & Architectural History and Spanish from Roger Williams University. She spent the first few years out of college working at the Newport Art Museum where she discovered her passion for teaching children through the arts. She then earned her M.A.T. through The Gordon School and Roger Williams University, which focused on teaching for social justice and multicultural education. Claire served as a K-2 classroom teacher and the girls' varisty soccer coach at Rocky Hill School where she applies her mindfulness training to help girls develop self-awareness and self-advocacy skills and how to lead with their greatest strengths.
Yin Agbontaen – Lead Facilitator
I'm Yin Agbontaen, 20, and currently a sophomore at Sewanee: The University of the South. I am studying psychology with a minor in business and Spanish. It's so awesome to be able to come home for the summer and work with the fabulous GLC girls! It's so mind-blowing to think about how much I can learn from girls that are 10 year younger than I am. Being a part of their summer and their learning process is so exciting and rewarding.
In my free time, I love to hang around friends especially because I go to school so far away from home. I love keeping busy by working as a hostess at Basta Restaurant and in sales at City Sports. My 8 year old dog also takes up some of my time! In school, I'm happily a part of the dance team and the Theta Kappa Phi sorority.
GLC is an amazing organization that should be a part of every young girl's maturation process. I love working with and meeting every young girl that becomes part of the GLC community!
Allison DeGerlia – Senior Internship Recipient & Lead Facilitator
Hi my name is Allison DeGerlia, I'm 18 and I attended Rocky Hill since preschool and will be a freshman at Ursinus College in the fall. I am very excited to be helping out with the GLC program as helping other people discover themselves as a leader, as well as improving my leadership skills, is something I care deeply about. Helping others and sharing the knowledge that was given to me is a goal of mine. I hope that everyone can enjoy some of the great experiences I have had. In my free time I like to play softball and field hockey as well as go to the beach with friends. One experience I have had that has helped shape who I am today and prepared me for this program has been the Rotary Youth Leadership Awards (RYLA). RYLA is a three-day student run camp run sponsored by Rotary that focuses on leadership as well as community service. This has helped shape the leader that I am today, give me confidence, and shown me how to inspire others to want to make a difference. All in all, when it comes down to it, my goals in life are to help inspire others to become better versions of themselves and to help others in any way I can. I am really excited to meet all the campers and hear their stories. So enough about me time to hear from you!
Grace Reed – Senior Internship Recipient & Lead Facilitator
Grace is a rising senior at Toll Gate High School, and she's very excited to start her 3rd summer working as a facilitator at GLC. Her passions include singing, playing piano, and learning new things about history and current world affairs. During her summers with GLC, engaging in meaningful conversation with girls in both the elementary and middle school age groups has been a highlight of her experience. She especially loves helping the girls navigate challenging group activities.
Carolyn Garth – Lead Facilitator
Carolyn is a teacher and a mother of two smart, strong, capable daughters. She strongly believes in GLC's model of helping girls understand their strengths and use them to build leadership skills. Carolyn wants to help girls, especially, understand this so that she can empower them to transcend learned barriers and shine in new ways. Carolyn is the 5th grade teacher at Moses Brown School in Providence, RI.
Cathy Cesario, M.A., E-RYT-500
Cathy Cesario enjoys connecting two great passions — her passion for young people and her passion for yoga. She has been practicing and teaching yoga for over 30 years, and is a trainer of yoga teachers. She also taught English to grades 7-12 at Milton Academy, a private boarding school, for 12 years, where she was a coach, a girls dormitory parent and Chair of the 8th grade English program. She is committed to bringing yoga and mindfulness skills to diverse populations and environments. Throughout the years, she has shared yoga and mindfulness skills with cardiac care patients, with inner city Boston teens at the Excel school; she has lead teen leadership workshops for East Greenwich public schools, as well as workshops for Providence public school teachers. She has currently teamed up with Alison Bologna at Shri Corps, where she is on staff in their urban outreach program, which brings yoga, mindfulness, community and character building classes to under-served populations and urban schools. She collaborated and created the Path of Service Yoga Teacher Training at Shri to train yoga teachers who could be sensitive to the diverse needs of these populations. Her teaching philosophy has a strong focus on exploring the true nature of the self through the medium of the body, on acting and service from the heart, and on unlocking and understanding the power we have within us.
She holds degrees in Psychology and English and is an Experienced Registered Yoga Teacher (E-RYT 500) with the Yoga Alliance at the most advanced level. She is also certified with the PhysicalMind Institute in Pilates Mat, and trained in Integrated Energy Medicine and as a Shamanic Practitioner at the advanced level. In 1991 Cathy was one of seven American students to be certified by her honored teacher Sri Sadashiv Nimbalkar of Bombay, India. Since then, Cathy has taught vinyasa, ashtanga, and hatha styles of yoga. In 2002 she spent a transformational three months in Southeast Asia studying Buddhism and yoga and trekking in the sacred Himalayas. While in Bali she participated in another teacher training with Bob Smith and Ki McGraw. Her teaching has been greatly influenced by the Iyengar and Ashtanga traditions. She has been a student of Patricia Walden, Barbara Benagh, Angela Farmer, Richard Freeman, Maty Ezraty, and Robert Svaboda, T.K.V. Desikachar, among others.
She has been a student of Buddhism since 1985, a philosophy that continues to feed and to inform her yoga teaching. She has been practicing private yoga therapy and alternative healing practices since 1995.