Empowering girls to develop leadership through service learning.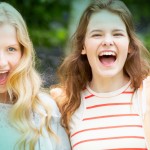 (6 week course)
Through peer-led team building exercises, as well as peer-designed group challenges and games, girls will experience a safe, supportive environment. Our researched-based curriculum explores leadership behaviors and uncovers personal passions. Using a variety of formats, our program, Girls Leadership Collaborative will delve into group formation theory to better understand adolescent behaviors and motivations.
Short, focused, multimedia based mini-seminars will reveal developmentally relevant topics of interest, such as: the effects of popular media messaging on self-image, leadership potential and social and professional aspirations, or the effects "success or failure" vs. a "success and failure" mentality on general well-being and productivity. As a final product, girls will design and implement a passion-based service learning project, revealing new leadership and collaborative skills. Girls build confidence, competence, and community, setting the foundation of change-making and an altruistic future.
Location
East Greenwich
Date/Time
Date(s) - 04/17/2014 - 05/29/2014
4:00 pm - 5:30 pm Thursday Evenings

6 Week Course
Grades/Age Group
Grades 5-7
Categories
Registration
Bookings are closed for this event.